Getting Started
The move to residential aged care is not an easy decision and our aim is to make the transition as easy as possible.
---
Initial Assessment
To come and live with us for permanent or respite care you will need an assessment by the Aged Care Assessment Team.
A member of the ACAT will talk to you about your current situation and determine the level of care that you will need. 
Get to Know Us
Following the assessment, if you are considering Yackandandah Health as a residential care option for either yourself or a family member, please contact Maree Andrews on 02 6028 0100.
Additional Information
It is helpful to provide the following information to us as early as possible:
A copy of the Aged Care Assessment
Financial information or assessments that you may have.
Pension cards, Health Care cards or Veterans' Affairs cards
Copies of Power of Attorney documents
Anything else you think we need to know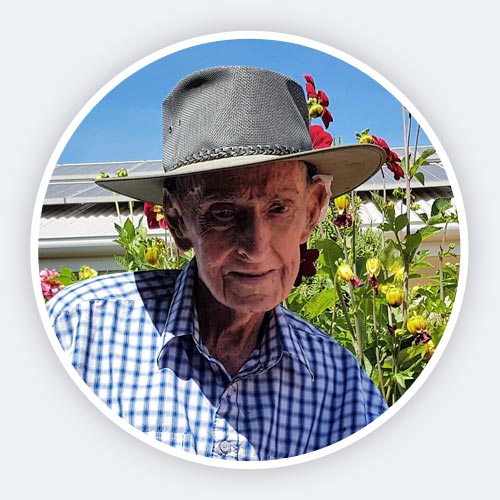 "My wife and I came here together. My daughters suggested we move together before one of us left for good. Then she passed on. Having already moved here and met people was an enormous help when my wife passed on. The friendship of the staff is very important because I mainly stick to myself."
Harold
FEES & CHARGES
Our fees are approved by the Commonwealth Department of Health and Ageing.
Fees consist of:
A basic daily fee determined by the Department of Health and Ageing
Income tested fee which is applicable to residents with a higher income as determined by Centrelink.
Accommodation fee - Yackandandah Health's maximum accommodation fee is $550,000. This fee is negotiable and is also dependent on a Centrelink means test. The accommodation fee can be paid with either a daily accommodation payment (DAP), a refundable accommodation deposit (RAD) or a combination of the two.
We also encourage prospective residents to view the available information on the My Aged Care website www.myagedcare.gov.au
---
Frequently Asked Questions
ACCOMMODATION
Am I able to bring my own furniture?

We provide you with a bed and bed side cupboard.  You may bring a piece of furniture, favourite chair, pictures, mementos etc. to personalise your rooms. For Occupational Health and Safety together with resident safety concerns, and taking into account the resident's level of care, we reserve the right to assess furniture items for suitability.

If I wish to leave and visit family or friends for a week or so, can I?

You may have up to 52 days social leave per financial year without your fees being affected. Any social leave in excess of the allocated 52 days will require special financial arrangements if you wish to retain your place. If you wish to take social leave, please discuss this with the Nurse in Charge ahead of time and they will be able to assist you.

Am I able to bring food into the home?

You are welcome to bring food items for your own or your loved ones to share. We do, however, ask that you follow the guidelines in our brochure 'Can I bring Food'.   Please discuss this further with the Nurse in Charge when the need arises.

Unfortunately, you are not able to have a pet living with you. However, a well behaved and much loved family pet is welcome to visit any time. We keep several leads in the reception area for visitors to borrow, so you can walk your dog safely within the facility and the grounds.

What are the visiting hours?

There are no restrictions on visiting hours. Relatives and friends can visit any time at their convenience.
FINANCES
What happens to the Refundable Accommodation Payment?

Yackandandah Health will hold the refundable accommodation payment in a secure and accessible form which meets the Commonwealth Government Department's prudential arrangements. The refundable accommodation payment is refunded on discharge.

How is the Refundable Accommodation Payment determined?

Yackandandah Health has determined various refundable accommodation payment amounts. The amount of each refundable accommodation payment relates to the standard of accommodation available within the facility eg. single rooms with ensuite, or alternatively larger suites.

What if I need to transfer to or from another facility?

If you need to transfer to another facility the balance of the Refundable Accommodation Payment will be returned to you or your Financial Power of Attorney within 14 days as per the requirements of the Aged Care Act.

How is the daily fee calculated?

The daily fee is comprised of the 2 following components:
 1. A Basic Daily Care Fee
 2. A Means Tested Care Fee

What is the Basic Daily Care fee?

This fee is paid by all residents entering residential aged care. The amount is determined by the Department of Health and Ageing and is approximately 85% of the single aged pension.

What is a Means Tested Care fee?


The Commonwealth Government applies an income test to all residents permanently entering any residential aged care facility. This fee is determined by Centrelink and is based on a calculation of deemed income and assets and is "capped" by Commonwealth Government regulations.
Our promise to you!
A smile each day - our highest priority at Yackandandah Health is your happiness.
Independence and choice
Tailor made care and attention
A life with meaning – live your best life and start an exciting new chapter.
An Information Package is available and can be either posted to you or collected from our reception.