Living Memory
Yackandandah Health is working with the younger community in 2020 to interview our elders re their life experiences. When this work is completed it will be presented on our website.
In early November 2017, Arts Yackandandah, Yackandandah Theatre Company and Yackandandah Health teamed up to produce and present the unique theatrical performance 'Living Memory'.
---
About 'Living Memory'
Performed in the carpark of Yackandandah Health, this space was transformed into an atmospheric night-time theatre, complete with a stage, seating, lighting and live music.
When guests arrived, they were treated to an immersive experience as they were ushered into the Yackandandah Health building. As they walked through the facility, the audience enjoyed pre-show performances from The Rickety-Ramblers (Yackandandah Health choir), Yackandandah Primary School choir, Vivox, and Uke-n-dandah. For many in the audience this was their first visit to Yackandandah Health, and for the residents, an opportunity to warmly welcome the community into their home.
Once in their seats, the theatre-goers enjoyed a pre-show set from Carma and the Consequences (Carm Hogan, Gordon Dickson, Chloe Wood and Jack Woodman). The band also served as a Greek chorus, weaving together and commenting on the seven 'living memories' that followed.
---
The 7 monologues were inspired by seven of our residents:
The stories covered many universal themes: love, loss, happiness, resilience and longevity. An encore performance was also presented in November 2018 as part of our weekend of community celebrations. Many thanks to Arts Yackandandah and the Yackandandah Theatre Company.
Edie Dryden
(Written by Kate Rotherham, performed by Lisa Mason)
---
David Nelson
(Written and performed by Brendan Hogan)
---
Pepita Hodgetts
(Written by Beverley Lello, performed by Nina Edwards)
---
Isabella Robinson
(Written by Lisa Mason, performed by Sophie Coleshill)
---
Harold McQuilton
(Written by Brendan Hogan, performed by Matt Lane)
---
Hazel Fox
(Written by Kate Rotherham, performed by Bridget Doyle)
---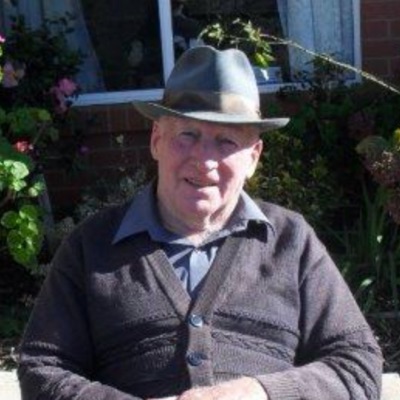 Erle Peatt
(Written by Brendan Hogan, performed by Trevor Matthews)
Erle reminisces about life at boarding school as a young child and then his work as an engineer. He warns us not to take our health for granted before sharing his reflections on loss. He describes the relief of moving into Yackandandah Health's residential aged care with this wife, who not long after, passed away. He also credits Yackandandah Health for giving him a purpose and a family for many years.
Erle was born on the 9 March 1924 and passed away aged 94, in July 2018.
---